Description:
Teach the Language Skills Needed for Face-to-Face Conversation!
Color My Conversation is an engaging, multi-sensory teaching program to help guide children through the conversation flow including the greeting, bringing up and changing topics, and how to close the conversation. Children will learn to navigate through a conversation starting at a basic greeting, and working toward the most complex conversation that the child is capable of having.
CMC incorporates visual, auditory, tactile, and moto-kinesthetic strategies to teach social language and conversational concepts. Appropriate populations include: high-functioning autism, Asperger syndrome, LLD, language delayed, ADHD, fluency, articulation, children with mild intellectual disabilities, as well as children within the general population.
CMC utilizes highly engaging interactive activities including movement, song, rhyme, color coding, signing/gestures, beadwork, artwork, pictures/photographs, line drawings, worksheets, role plays, interactive game activities and field assignments to aid children in starting and maintaining a conversation. Instruction incorporates errorless learning to keep stress low and outcomes positive. Includes an easy to use manual with simple instructions to explain a holistic approach for fostering the development of social awareness, self-regulation, executive function, and meta cognitive and meta-linguistic skills. Target ages K-7th grade.
Outcomes:
Students will develop the skills to express themselves in any situation. The students should have greater respect for others, the confidence to interact in existing and new social environments using appropriate social language, and less bullying issues.
How much time is required?
About 15 minutes to complete a lesson.
---
Concerned about how technology is over-riding the conversational skills of children?
"Color My Conversation brings us back to the roots of how to communicate effectively face to face.
It has the potential to powerfully impact our next generation of children."
Watch & Learn what Color My Conversation is about!
This program teaches appropriate use of:
Greetings

Questions

Comments

Topic Changers
Improve other essential conversation skills including:
Reproducible pages on CD include:
Editable parent letters

Individual worksheets

Take home exercises

Data collection forms
---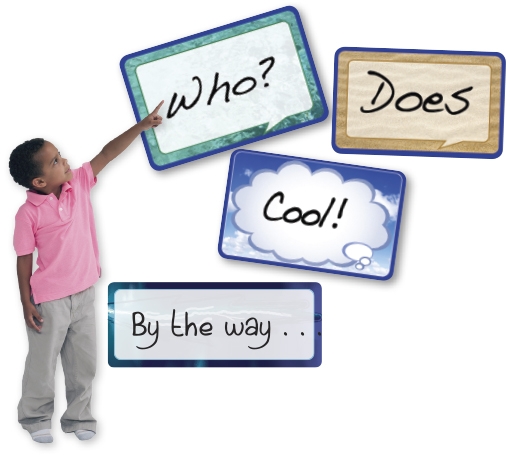 Students will create a wall display to assist in their
development of proper techniques on comments,
questions and changing topics.
---
Reproducible and comprehensive manual with editable PDF's for parent letters,
student feedback and much more! Many easy-to-use Lesson Plans!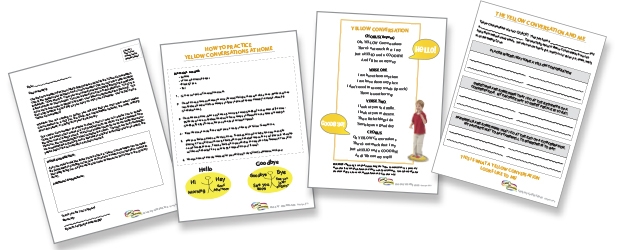 Customer Reviews:
"Color My Conversation brings us back to the roots of how to communicate effectively face to face. It has the potential to powerfully impact our next generation of children."
- Speech-Language Pathologists
---
"Anyone interested in improving social and life skills for K-7 students should give this curriculum a serious look. Two thumbs up!"
- Teacher
---
"I have a child with Asperger's Syndrome and even though he is a genius, he had no idea how to "act appropriately" with his peers. He did not possess the tools to properly initiate conversation with people. He was unable to express himself through words or facial recognition. In a nutshell, he was a grumpy looking, unapproachable boy who estranged himself from people through hyper-focusing on books and self-interest. We were referred to Rosslyn Delmonico through a friend because I was having anxiety about my son having difficulty transitioning into the next level of school and social obligation (high school). Rosslyn worked hard with my son that summer. Through the Color My Conversation program, he was given the tools to initiate basic conversations, introduce preferred topics and use proper eye contact and body language. The pivotal point was when he was able to show emotion through facial expressions, which he had very much struggled with. With all of this, he was able to transition into high school in a socially acceptable manner, which enabled him to make friends, and excel profusely. I know for a fact that my son would not be the same person socially, emotionally and in general if it were not for Rosslyn Delmonico and her extraordinary Color My Conversation. My son is proud to be graduating this year, with full acedemic credits, and is looking forward to continuing his education within the culinary arts."
- Parent
---
Order Policies:
SHIPPING YOUR ORDER:
Orders placed within the United States are shipped via UPS and arrive within 7-10 business days, unless a quicker shipping method is selected. Every effort is made to ship your order in a timely manner. Orders are shipped between 1-3 business days.
Canadian orders are shipped via UPS and usually arrive within 2-3 weeks, depending on customs. We ship Canadian orders once a week on Tuesdays in order to keep costs as low as possible. The shipping price includes UPS Standard shipping costs, taxes & duties.
International orders are shipped via UPS and usually arrive within 2-3 weeks, depending on customs. The shipping price includes UPS Standard shipping costs only. Any customs, duties & tax fees will be paid by the receiver when package is delivered. We can ship International orders via United States Postal Service, if requested. Contact info@northernspeech.com for more information.
BACKORDERED ITEMS:
If an item is not in stock when your order is received, you will be notified via email with the estimated ship date for your order. Generally, backorders are shipped within 1-2 weeks. If you order with a Purchase Order, your invoice will not be sent until the order is completely filled.
CANCELING AN ORDER:
If you have not received your order, you may cancel it by calling 888-337-3866, faxing 888-696-9655, or e-mailing info@northernspeech.com. In the event that your order has already been shipped, you are responsible for returning the items in accordance with our RETURN policy (a copy is provided with your order).
RETURN POLICY:
Order must be returned within 30 days after receiving order.
If you received a wrong/defective/damaged/duplicate order, please email info@northernspeech.com. Include your Order Number, Product Name, and problem with your order. Do not return the product until you have received an authorization from our Office.
If product is returned in unused and in good condition, a full refund will be processed, minus shipping and handling charges.
PAYMENT METHODS:
We accept checks (US dollars only), money orders, credit cards (Visa, MasterCard, American Express, Discover), EFT (electronic funds transfer) and purchase orders.
CREDIT CARD SECURITY:
When you submit your credit card and other sensitive information to NorthernSpeech.com, rest assured that the transaction is secure. In fact, shopping online at NSS is as safe as using your credit card at a restaurant or department store. Our servers use Secure Sockets Layer (SSL), one of the most robust encryption platforms available. SSL technology works with Netscape Navigator (versions 2.0 and above), Microsoft Internet Explorer (version 3.0 and above), AOL (AOL 3.0 and above), Firefox, Safari and Opera. This technology encrypts your private information from the moment you enter it until your transaction is processed, and your personal information will not be saved on a public server--thus safeguarding your personal information and guaranteeing privacy.
If you still feel unsure about sending your information via internet, please feel free to call us (888-337-3866) and we can process your order over the phone.
ALTERNATIVES TO USING YOUR CREDIT CARD THROUGH OUR WEBSITE:
We offer the option of phoning, faxing or mailing in your information after you place your order for products. Simply use the Downloadable Order Form, which you can print and fax or mail to our office.