Description:
___________________________________________
Workout Book helps promote rapid development
of expressive language skills.
___________________________________________
Special Combo Offers!
Save $75: Kit 1 & Workout Book
Save $75: Kit 2 & Workout Book

Ideal follow up material after progress is made with the Kaufman Treatment Kits! The Kaufman Kits helped to shape syllables into words. Now use Workout Book to expand single words into phrases and sentences. These materials are reproducible allowing the SLP to create home programs.
Includes 16 reproducible motor-speech coordination workouts to stabilize the pronunciation of consonant-vowel combinations, and promote rapid development of expressive language skills while controlling for oral-motor difficulty. Building on Kaufman Kit 1, the activities feature familiar Mutt Family characters and focus on consonant-vowel combinations with /m, p, b, t, d, n, h/.
Each workout explains what skill is being targeted, how to perform the exercise, and specific help that is to be offered to the child. The straightforward style of this book allows parents/caregivers to reinforce the work done by the SLP. Ages 2 to 10. Made in the USA.
Develops expressive language skills.

Includes 16 motor-speech coordination workouts.

Next step in therapy after Kaufman Kit 1.
Reproducible content to create home programs.

Teaches cueing techniques for specific sounds.

Features familiar Mutt Family characters.

Holds attention with colorful and engaging story themes.
---
Outcomes: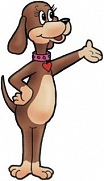 Use to expand single words into functional phrases and sentences while controlling for
oral-motor difficulty. These practice materials will truly make a difference in a child's quest
to become an effective verbal communicator.
How much time is required?
About 15 minutes to complete a lesson.
---
Kaufman Speech To Language Protocol Treatment Progression:
A systematic and progressive treatment program utilizing word simplification patterns to shape and expand
verbal communication while controlling for oral-motor difficulty throughout the treatment process.

What's Included?
Features 16 fun and engaging motor-speech coordination workouts.

Includes updated cueing techniques for specific sounds.

Features familiar Mutt Family characters.

Colorful and engaging story themes grab and hold attention.

Hard cover spiral bound book with 127 pages (9"x13" color-printed pages).
Target Audience:
For SLPs working with young children on consonant-vowel combinations and on expressive language skills. Visual referents are most appropriate for children ages 2 to 10. This material may also be beneficial as home programs for parents who are working closely with their child's SLP to reinforce therapy sessions.
Customer Reviews:
"I have the Kaufman Treatment Kits 1 and 2, plus the Workout Book. I love all of them, but I especially love the Workout Book. My students love the scenes with the Mutt family! They request to do certain scenes over and over! Great language practice and wonderful for my apraxia students."
—Speech-Language Pathologist
Using this product? Please email us with your review.
Order Policies:
SHIPPING YOUR ORDER:
US Domestic - Orders are shipped through USPS or UPS. Rates for both services are based on current published rates. Please use our shipping estimator(available in the shopping cart)to determine your shipping costs, based on your preferences.

International - Orders are shipped through USPS or UPS. Duties and taxes are NOT included in the shipping cost. Some countries impose additional duties and taxes when packages cross their borders. Please check your local laws, as any additional charges(duties/taxes), may be due upon delivery of your package. NSS is not responsible for any additional charges.

Tracking information will be emailed to you upon order shipping.
BACKORDERED ITEMS:
If an item is not in stock when your order is received, you will be notified via email with the estimated ship date for your order. Generally, backorders are shipped within 1-2 weeks. If you order with a Purchase Order, your invoice will not be sent until the order is completely filled.
CANCELING AN ORDER:
If you have not received your order, you may cancel it by calling 888-337-3866, faxing 888-696-9655, or e-mailing info@northernspeech.com. In the event that your order has already been shipped, you are responsible for returning the items in accordance with our RETURN policy (a copy is provided with your order).
RETURN POLICY:
Order must be returned within 30 days after receiving order.
If you received a wrong/defective/damaged/duplicate order, please email info@northernspeech.com. Include your Order Number, Product Name, and problem with your order. Do not return the product until you have received an authorization from our Office.
If product is returned in unused and in good condition, a full refund will be processed, minus shipping and handling charges.
PAYMENT METHODS:
We accept checks (US dollars only), money orders, credit cards (Visa, MasterCard, American Express, Discover), EFT (electronic funds transfer) and purchase orders.
CREDIT CARD SECURITY:
When you submit your credit card and other sensitive information to NorthernSpeech.com, rest assured that the transaction is secure. In fact, shopping online at NSS is as safe as using your credit card at a restaurant or department store. Our servers use Secure Sockets Layer (SSL), one of the most robust encryption platforms available. SSL technology works with Netscape Navigator (versions 2.0 and above), Microsoft Internet Explorer (version 3.0 and above), AOL (AOL 3.0 and above), Firefox, Safari and Opera. This technology encrypts your private information from the moment you enter it until your transaction is processed, and your personal information will not be saved on a public server--thus safeguarding your personal information and guaranteeing privacy.
If you still feel unsure about sending your information via internet, please feel free to call us (888-337-3866) and we can process your order over the phone.
ALTERNATIVES TO USING YOUR CREDIT CARD THROUGH OUR WEBSITE:
We offer the option of phoning, faxing or mailing in your information after you place your order for products. Simply use the Downloadable Order Form, which you can print and fax or mail to our office.
More Offerings by: Nancy Kaufman
Seminars

Oct 6
Childhood Apraxia of Speech: The K-SLP Methods and Behavioral Strategies To Build Successful Vocal Communication
Dallas, TX (Richardson)
Oct 20
Childhood Apraxia of Speech: The K-SLP Methods and Behavioral Strategies To Build Successful Vocal Communication
Reston, VA (DC Area)
Oct 27
Childhood Apraxia of Speech: The K-SLP Methods and Behavioral Strategies To Build Successful Vocal Communication
Atlanta, GA
Nov 3
Childhood Apraxia of Speech: The K-SLP Methods and Behavioral Strategies To Build Successful Vocal Communication
Baltimore, MD (Timonium)
Dec 1
Childhood Apraxia of Speech: The K-SLP Methods and Behavioral Strategies To Build Successful Vocal Communication
Chicago, IL (Naperville)
Ecourses

e02
Evaluation and Treatment of Childhood Apraxia of Speech: The Kaufman Speech To Language Protocol (K-SLP)
Nancy Kaufman, MA, CCC-SLP
0.4
$79.00
e03
Post Test & CEUs: Kaufman Speech To Language Protocol DVD Set (viewer CEUs only – no materials included)
Nancy Kaufman, MA, CCC-SLP
0.4
$49.00
e155
Eight Behavioral Teaching Strategies for Treating Childhood Apraxia of Speech
Nancy Kaufman, MA, CCC-SLP
0.4
$79.00
Products

Kaufman (K-SLP) Treatment Kit 2 – Advanced Level
$199.00
Kaufman Speech Praxis Test (KSPT)
$180.00
Kaufman Speech Praxis Test Score Sheets (KSPT)
$30.00
K&K Sign To Talk Nouns
$111.00
Kaufman (K-SLP) Treatment Kit 1 – Basic Level
$199.00
K&K Sign To Talk Verbs
$95.00
Kaufman Mutt Family Total Language Builder
$149.00
Kaufman (K-SLP) Instructional DVD Set
$99.00
Kaufman (K-SLP) Treatment Kit 1 & Workout Book
$223.00
K&K Sign To Talk Nouns & Verbs
$193.00
Kaufman (K-SLP) Treatment Kits 1 & 2
$298.00
Kaufman (K-SLP) Instructional DVD Set & Treatment Kit 1
$223.00
Kaufman (K-SLP) Instructional DVD Set & Treatment Kit 2
$223.00
Kaufman (K-SLP) Treatment Kit 2 & Workout Book
$223.00
Kaufman Apraxia: What's In Your Doghouse?
$89.00