At eCourse conclusion, participants will be able to:
Explain the Interactive Text Instruction (ITI) strategy for teaching language: combination of auditory and visual information.

Explain multiple learning objectives for working with ITI themes.

Explain flexibility of ITI themes for varying level of language competence.

Explain flexibility of ITI themes to accommodate interest of learners.

Explain flexibility of ITI themes for use with social stories for social learning.

Explain the benefits of ITI theme strategy for teaching versus a single sentence approach.

Explain how to create ITI materials.
A score of 80% or better must be received on the post test in order
to receive a certificate of completion.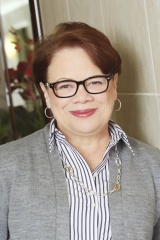 Judith Tate, MA, CCC-SLP, has been a practicing SLP for over 30 years with experience in working with children and young adults with various diagnoses including ASD, ADHD, developmental speech apraxia, Down syndrome, cerebral palsy, developmental delay and others. Her experience also includes assessment and training for speech generating devices with children and adults and intervention for social pragmatic issues.
Judith began her private practice in 1998. She is the owner and sole proprietor of SpeechWorks for Kids, LLC in Columbus, Ohio. She began working with and developing Interactive Text Instruction with students in 2010. Interactive Text Instruction is an intervention strategy for teaching receptive and expressive language that relies on interaction with the student using text and images as visual prompts to create meaningful and pragmatic language. This strategy utilizes visual information to augment and teach auditory processing of language for learning.
Speaker Disclosures:
Financial — Judith Tate is presenter of online CE courses sponsored by Northern Speech Services; receives royalties.
Financial — Judith Tate is author of the "Interactive Text Instruction" program published by Northern Speech Services; receives royalties.
Nonfinancial —Judith Tate has no relevant non-financial relationships to disclose.
Intended Audience
This program is offered for 0.1 CEUs (Intermediate level; Professional area).

Offered for 1 CEEs. Northern Speech Services' continuing education activities are eligible for Speech-Language and Audiology Canada (SAC) Continuing Education Equivalents (CEEs) in speech-language pathology. An activity's eligibility for CEEs does not imply SAC's endorsement of its content or any associated products or procedures.
Content Disclosure: This presentation will focus exclusively on the Interactive Text Instruction Program". Other treatment approaches will receive limited or no coverage during this lecture.Presenter financial and non-financial disclosures may be found by clicking the Presenter & Disclosures tab.
ASHA CEUs: NSS online courses are registered with ASHA and are offered for ASHA CEUs. The number of CEUs is noted above. Note that 0.1 CEU = 1 contact hour = equals 1 CEE.
Licensing Boards: Most state licensing boards DO accept CEUs earned online (usually classified as home-study credits). Some state boards do, however, place a limit to the number of credits that can be earned via home study/online courses. For the most current information, we suggest that you contact your licensing board or agency to verify acceptance policies and/or any credit limits related to home-study courses prior to registering for this course.
ASHA CE Registry: During the enrollment process, if you select to receive ASHA credit for this course and if you provide your ASHA number, NSS will automatically submit your CEU information to the ASHA CE Registry after successful course completion (80% on post test). This submission happens once per month, during the first week of the month. For example, if you complete your course on November 7th, NSS will submit all November online course CEUs to ASHA during the first week of December. When ASHA inputs the information into their database, they will mark the course as completed on the last day of the month in which it was completed, so November 30th using this example. The certificate of completion available for you to print immediately, however, will reflect the actual completion date, November 7th in this example. Due to ASHA processing procedures please allow 2-3 weeks, from the submission date, for the course to appear on your ASHA transcript.
ASHA CEUS: Attendees must meet at least one of the following conditions in order to be eligible to earn ASHA CEUs:
Current ASHA Member

ASHA Certificate of Clinical Competence (CCC) Holder

Licensed by a state or provincial regulatory agency to practice speech-language pathology (SLP) or audiology

Credentialed by a state regulatory agency to practice SLP or audiology

Credentialed by a national regulatory agency to practice SLP or audiology

Engaged in a Clinical Fellowship under the supervision of an individual with their ASHA CCC

Currently enrolled in a masters or doctoral program in SLP or audiology
If an attendee is not an ASHA member or CCC holder but meets any of the above criteria, they may inform the ASHA CE Registry of their eligibility by visiting this site.
Additional accrediting agencies by which Northern Speech is an approved CE provider:
California: NSS is approved as a provider of continuing education by the California Speech-Language Pathology & Audiology Board. Provider #PDP4. Online CEU limits may apply; please contact SLPAHADB for current online CEU acceptance policies.
Iowa: NSS is approved as a provider of continuing education by the Iowa Board of Speech Pathology and Audiology Examiners. Provider #169.
Kansas: NSS is approved as a provider of continuing education by the Kansas Department of Health and Environment. Provider #LTS-S0005.
Florida:

NSS is approved as a provider of continuing education by the Florida Speech-Language Pathology and Audiology Board. Provider #SPA-026.

New Jersey:

NSS is approved as a provider of continuing education by the New Jersey Department of Education. Provider #1654.
"Great specific technique that is simple to implement and can be used across levels." – A.J. (Jan. 2017)
"This is a GREAT instructional course for all primary SLPs - so many new grads have NO clue where to start with language instruction. This is a great, easy to use starting point. Overall, a great course!" – R.G. (Dec. 2016)