Description:
Teach the language skills needed for face-to-face conversations!
Color My Conversation Program Overview Video
~ 2nd Edition Now Available ~
New 2nd Edition includes:
Four (4) additional Game Board Activities

Two (2) new Songs

Updated Instructional Manual

Additional Reproducible Worksheets & Activities
---
The Color My Conversation program (CMC) is an engaging, multisensory teaching approach to help guide children through the conversation flow including the greeting, bringing up and changing topics, and how to close the conversation. Children will learn to navigate through a conversation starting at a basic greeting, and working toward the most complex conversation that the child is capable of having.
CMC utilizes highly engaging interactive activities to aid children in starting and maintaining a conversation. Instruction incorporates errorless learning to keep stress low and outcomes positive. The holistic approach fosters development of social awareness, self-regulation, executive function, and meta-cognitive and meta-linguistic skills. The comprehensive manual on CD fully explains implementation of this program for student success. Plus! Available online videos discussing CMC lessons further support program implementation. Made in the USA. Target ages K-7th grade.
Online Lesson Support Videos Available!
Click here to view >>
A Multisensory Approach

CMC incorporates visual, auditory, tactile, and kinesthetic strategies to teach social language and conversational concepts. Activities feature movement, song, rhyme, color coding, signing/gestures, beadwork, artwork, pictures/photographs, line drawings, worksheets, role plays, interactive game activities and field assignments. Appropriate populations include: high-functioning autism, Asperger syndrome, LLD, language delayed, ADHD, fluency, articulation, children with mild intellectual disabilities, as well as children within the general population.
Outcomes:
Students will develop the skills to express themselves in any situation. The students should have greater respect for others, the confidence to interact in existing and new social environments using appropriate social language, and less bullying issues.
How much time is required?
About 15 minutes to complete a lesson.
---
Concerned about how technology is overriding the conversational skills of children?
"Color My Conversation brings us back to the roots of how to communicate effectively face to face.
It has the potential to powerfully impact our next generation of children."
Watch & Learn what Color My Conversation is about!
---
This program teaches appropriate use of:
Greetings

Questions

Comments

Topic Changers
Improve other essential conversation skills including:
Reproducible pages on CD include:
Editable Parent Letters

Individual Worksheets

Take Home Exercises

Data Collection Forms
---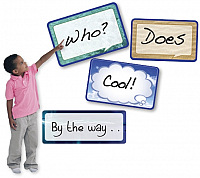 Students will create a wall display to assist in their
development of proper techniques on comments,
questions and changing topics.
---
Reproducible and comprehensive manual with editable PDF's for parent letters,
student feedback and much more! Many easy-to-use Lesson Plans!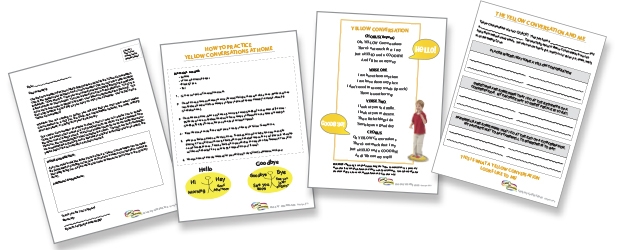 CURRENTLY BACKORDERED
What's Included?
FREE Training Videos now available! Click here to view >>
Included in the 14"x16" CMC Kit Box:

12 Stepping Floor Graphics
100 Picture/Emotion Cards
50 Game Tokens
50 Dry Erasable Wall Display Cards
2 Dry Erase Pens
Cloth Ribbon (approx. 9.5ft)
Game Board with 4 Activities
CMC Ball
Classroom Poster
Instructional Manual & Music CD's
Additional Reproducible Worksheets & Activities
| | | | |
| --- | --- | --- | --- |
| | | | |
| Floor Graphics are used to represent the conversation path and as a reminder for the various stages of conversation. The path can be shortened to represent a simple conversation and lengthened for more complex conversations. | Board Game is an advanced activity designed to add structure to the student's conversations. This activity further develops the techniques for more confident social skills. | Wall Chart is created to track and remind students of their progress. It also serves as a daily reminder of the proper conversation techniques, including comments, questions, and changing topics. | Ball Activity reinforces turn taking and helps establish eye contact. |
Target Audience:
For SLPs, educators, special educators and others working with children who struggle with conversation skills. Appropriate populations include: high-functioning autism, Asperger syndrome, LLD, language delayed, ADHD, fluency, articulation, children with mild intellectual disabilities, as well as children within general education. Student ages: K to 7th grade.
Customer Reviews:
—Shannon, Speechy Musings, 8/22/2015
---
"I run Social Skills camps and groups for children between the ages of 6-11 who have a range of diagnoses including Autism, ADD, fluency disorders, and language disorders. We use the Color My Conversation (CMC) curriculum as it provides the kids a practical multi-sensory method for learning where, when, and how to have successful conversations with peers and adults. I notice that the children are better able to carry on conversations about non-preferred topics, ask questions, and use comments to show their partners that they are listening and caring about what others are sharing. They love to walk the conversation path and it gets the kids moving and learning. I notice that their anxiety level when conversing with peers is lower after training. Giving out tokens for comments and questions during the game provides a system for measuring progress as well."
—Speech-Language Pathologist, 7/21/2015
---
"I attended a CMC Conference 2 years ago and use the program in some capacity daily in my public school practice. I have also led staff trainings on CMC so that Teachers and Instructional Assistants could bring these skills into the classroom. The multi-sensory approach has been a huge benefit to my students and each one can participate at some level. I have also received a parent report that her child had a "real" telephone conversation with her grandmother for the first time after repeated practice. With my current work dynamic, I acutally used a push-in model with one of my classes and we practiced CMC every Friday morning and then the Teacher was able to reinforce the skill taught throughout her day. Color My Conversation has also been a wonderful tool in helping neurotypical students participate in a structured conversation with my students in a safe and guided way that generated practice, success, and for some, beginning of friendships. I appreciate CMC and will continue to use it."
—Speech-Language Pathologist, 7/22/2015
---
"I've already had success using Color My Conversation! It has helped patients have a conversation that previously did not seem to understand the flow of conversation. Great visuals and activities that motivated them to talk."
—Speech-Language Pathologist, 7/20/2015
---
"Color My Conversation brings us back to the roots of how to communicate effectively face to face. It has the potential to powerfully impact our next generation of children."
—Speech-Language Pathologist, 2014
---
"I've noticed several remarkable changes in 'A' since he began using the Color My Conversation program with Rosslyn. The first significant change, and a real "a-ha" moment for 'A', was when he finally understood the importance of eye contact. This small detail changed everything for him. For the first time in his life, he began to engage with the people around him and, more importantly (to him) began to get friendly, interested responses in return. For me, a huge encouragement has been the feedback I've received from many of my friends, most of whom do not know that 'A' is receiving any kind of therapy. Several have taken the time to seek me out to tell me that they've seen a real change in him. They've told me of the great conversations they've had - and most have commented that this is something very new in their relationship with him. Some have been a little more blunt and have told me he doesn't talk nonsense anymore, and they feel that they can really talk to him now and meet the real 'A'. One mother of children with severe relational issues sought me out to ask me what I had done. Whatever it was, she wanted it! It really isn't an exaggeration to say this program has begun to change 'A's life. He has confidence, he is able to engage in one to one conversation, and AMAZINGLY he has friends for the first time ever. In the past, kids have avoided him and refused his invitations to hang out in our home because they found him odd and hard work; but now they actively seek him out and respond to his social invitations. As a mother, there are no words to describe what it's like to see your desperately lonely, socially awkward (formerly) child interact with friends for the first time. We love Color My Conversation."
—Parent, 2014
---
"Anyone interested in improving social and life skills for K-7 students should give this curriculum a serious look. Two thumbs up!"
—Teacher, 2014
---
"I have a child with Asperger's Syndrome and even though he is a genius, he had no idea how to "act appropriately" with his peers. He did not possess the tools to properly initiate conversation with people. He was unable to express himself through words or facial recognition. In a nutshell, he was a grumpy looking, unapproachable boy who estranged himself from people through hyper-focusing on books and self-interest. We were referred to Rosslyn Delmonico through a friend because I was having anxiety about my son having difficulty transitioning into the next level of school and social obligation (high school). Rosslyn worked hard with my son that summer. Through the Color My Conversation program, he was given the tools to initiate basic conversations, introduce preferred topics and use proper eye contact and body language. The pivotal point was when he was able to show emotion through facial expressions, which he had very much struggled with. With all of this, he was able to transition into high school in a socially acceptable manner, which enabled him to make friends, and excel profusely. I know for a fact that my son would not be the same person socially, emotionally and in general if it were not for Rosslyn Delmonico and her extraordinary Color My Conversation. My son is proud to be graduating this year, with full academic credits, and is looking forward to continuing his education within the culinary arts."
—Parent, 2015
---
"I was able to use your program, Color My Conversation, with several of my kids at school last year. It really helped a lot of my kids, especially the ones who needed multiple cues to complete tasks. Most of my kids really liked the pictures selected for the program. Sometimes I would use these for language tasks as well.
I recalled you saying that some of the steps are better when used in a class setting and I had one teacher who started to integrate conversation practice into the school day every day. I was able to collaborate with her and share some of your resources. I can't tell you enough how grateful I am for Color My Conversation!"
—Speech-Language Pathologist, 7/20/2015
---
Order Policies:
SHIPPING YOUR ORDER:
US Domestic - Orders are shipped through USPS or UPS. Rates for both services are based on current published rates. Please use our shipping estimator(available in the shopping cart)to determine your shipping costs, based on your preferences.

International - Orders are shipped through USPS or UPS. Duties and taxes are NOT included in the shipping cost. Some countries impose additional duties and taxes when packages cross their borders. Please check your local laws, as any additional charges(duties/taxes), may be due upon delivery of your package. NSS is not responsible for any additional charges.

Tracking information will be emailed to you upon order shipping.
BACKORDERED ITEMS:
If an item is not in stock when your order is received, you will be notified via email with the estimated ship date for your order. Generally, backorders are shipped within 1-2 weeks. If you order with a Purchase Order, your invoice will not be sent until the order is completely filled.
CANCELING AN ORDER:
If you have not received your order, you may cancel it by calling 888-337-3866, faxing 888-696-9655, or e-mailing info@northernspeech.com. In the event that your order has already been shipped, you are responsible for returning the items in accordance with our RETURN policy (a copy is provided with your order).
RETURN POLICY:
Order must be returned within 30 days after receiving order.
If you received a wrong/defective/damaged/duplicate order, please email info@northernspeech.com. Include your Order Number, Product Name, and problem with your order. Do not return the product until you have received an authorization from our Office.
If product is returned in unused and in good condition, a full refund will be processed, minus shipping and handling charges.
PAYMENT METHODS:
We accept checks (US dollars only), money orders, credit cards (Visa, MasterCard, American Express, Discover), EFT (electronic funds transfer) and purchase orders.
CREDIT CARD SECURITY:
When you submit your credit card and other sensitive information to NorthernSpeech.com, rest assured that the transaction is secure. In fact, shopping online at NSS is as safe as using your credit card at a restaurant or department store. Our servers use Secure Sockets Layer (SSL), one of the most robust encryption platforms available. SSL technology works with Netscape Navigator (versions 2.0 and above), Microsoft Internet Explorer (version 3.0 and above), AOL (AOL 3.0 and above), Firefox, Safari and Opera. This technology encrypts your private information from the moment you enter it until your transaction is processed, and your personal information will not be saved on a public server--thus safeguarding your personal information and guaranteeing privacy.
If you still feel unsure about sending your information via internet, please feel free to call us (888-337-3866) and we can process your order over the phone.
ALTERNATIVES TO USING YOUR CREDIT CARD THROUGH OUR WEBSITE:
We offer the option of phoning, faxing or mailing in your information after you place your order for products. Simply use the Downloadable Order Form, which you can print and fax or mail to our office.
More Offerings by: Rosslyn Delmonico
Ecourses

e131
Current Trends in Social Language Training for Children with Autism and Other Developmental Disabilities: The Color My Conversation Program
Rosslyn Delmonico, MA, RSLP, CCC-SLP
0.6
$99.00