Description:
____________________________________


Aids in the diagnosis and treatment
of childhood apraxia of speech.
____________________________________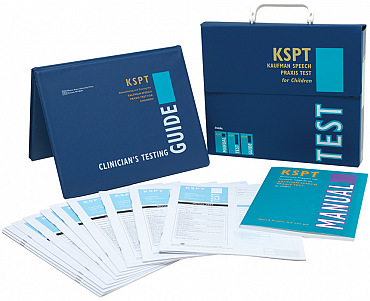 The Kaufman Speech Praxis Test (KSPT) is a norm-referenced, diagnostic test assisting in the identification and treatment of childhood apraxia of speech. Easy to administer and score, KSPT measures a child's imitative responses to the clinician, identifies where the speech system is breaking down, and points to a systematic course of treatment.
The KSPT is useful beyond establishing an initial diagnosis, as results can be used to measure and quantify gains in motor-speech proficiency. Also, test sections can assist in developing goals for IEPs and measuring progress. Order includes complete KSPT with a packet of 25 score sheets. Additional score sheets may be ordered here. Ages: 2;0 – 5;11. Admin time: 5-15 minutes.
Identifies where the child's speech system is breaking down and points to a specific course of treatment.

Norm-referenced and standardized items that provide a raw score, standard score, and a percentile ranking.

Provides normative information for the "normal" pediatric speaking population and the "disordered" population.

Results assist in planning treatment, developing goals for IEPs, and measuring progress.

Breakdowns in KSPT match the levels of treatment in the


K-SLP Treatment Kits, allowing for a seamless transition to therapy.
Outcomes:
The Kaufman Speech Praxis Test:
Measures a child's imitative responses to the clinician.

Identifies where the child's speech system is breaking down.

Points to a systematic course of treatment.

Quantifies gains in motor-speech proficiency.
How much time is required?
Administer time: 5-15 minutes.
---
Kaufman Speech To Language Protocol Treatment Progression:
A systematic and progressive treatment program utilizing word simplification patterns to shape and expand
verbal communication while controlling for oral-motor difficulty throughout the treatment process.

Order Policies:
SHIPPING YOUR ORDER:
US Domestic - Orders are shipped via UPS or USPS. Rates for both services are based on current published rates. Please use our shipping estimator(available in the shopping cart)to determine your shipping costs, based on your preferences.

International - Orders are shipped via USPS. Duties and taxes are NOT included in the shipping cost. Some countries impose additional duties and taxes when packages cross their borders. Please check your local laws, as any additional charges(duties/taxes), may be due upon delivery of your package. NSS is not responsible for any additional charges.

Tracking information will be emailed to you upon order shipping.
BACKORDERED ITEMS:
If an item is not in stock when your order is received, you will be notified via email with the estimated ship date for your order. Generally, backorders are shipped within 1-2 weeks. If you order with a Purchase Order, your invoice will not be sent until the order is completely filled.
CANCELING AN ORDER:
If you have not received your order, you may cancel it by calling 888-337-3866, faxing 888-696-9655, or e-mailing info@northernspeech.com. In the event that your order has already been shipped, you are responsible for returning the items in accordance with our RETURN policy (a copy is provided with your order).
RETURN POLICY:
Order must be returned within 30 days after receiving order.
If you received a wrong/defective/damaged/duplicate order, please email info@northernspeech.com. Include your Order Number, Product Name, and problem with your order. Do not return the product until you have received an authorization from our Office.
If product is returned in unused and in good condition, a full refund will be processed, minus shipping and handling charges.
PAYMENT METHODS:
We accept checks (US dollars only), money orders, credit cards (Visa, MasterCard, American Express, Discover), EFT (electronic funds transfer) and purchase orders.
CREDIT CARD SECURITY:
When you submit your credit card and other sensitive information to NorthernSpeech.com, rest assured that the transaction is secure. In fact, shopping online at NSS is as safe as using your credit card at a restaurant or department store. Our servers use Secure Sockets Layer (SSL), one of the most robust encryption platforms available. SSL technology works with Netscape Navigator (versions 2.0 and above), Microsoft Internet Explorer (version 3.0 and above), AOL (AOL 3.0 and above), Firefox, Safari and Opera. This technology encrypts your private information from the moment you enter it until your transaction is processed, and your personal information will not be saved on a public server--thus safeguarding your personal information and guaranteeing privacy.
If you still feel unsure about sending your information via internet, please feel free to call us (888-337-3866) and we can process your order over the phone.
ALTERNATIVES TO USING YOUR CREDIT CARD THROUGH OUR WEBSITE:
We offer the option of phoning, faxing or mailing in your information after you place your order for products. Simply use the Downloadable Order Form, which you can print and fax or mail to our office.