At e-course conclusion, participants will be able to:
Identify critical variables in deciding on best diet for a patient.

Identify best diet for their dysphagic patients.

Interact more effectively with the dysphagic patient and caregiver regarding diet changes.
A score of 80% or better must be received on the post-test in order to
receive a certificate of completion.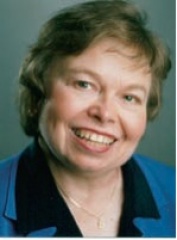 Jeri A. Logemann, PhD, CCC-SLP, BRS-S, is the Ralph and Jean Sundin Professor of Communication Sciences and Disorders at Northwestern University, Evanston, Illinois, and Professor of Otolaryngology and Maxillofacial Surgery and Neurology at Northwestern University Medical School, Chicago, Illinois. She directs the Voice, Speech and Language Service and Swallowing Center at Northwestern University Medical School/Northwestern Memorial Hospital. Dr. Logemann received all of her degrees at Northwestern, including a two-year postdoctoral appointment.
Dr. Logemann's research interests include the management of voice disorders, normal swallowing physiology, the assessment and treatment of speech and swallowing dysfunction in treated head and neck cancer patients and neurologically impaired individuals, and in the development of randomized clinical trials. She has received NIH funding for her research in the areas of normal swallowing physiology and speech and swallowing disorders for the past 25 years.
She is co-author of the Fisher-Logemann Test of Articulation Competence, and she is author of Evaluation and Treatment of Swallowing Disorders and author of the Manual for the Videofluorographic Study of Swallowing. In addition to being a Fellow of ASHA and the Chicago Medical Society, Dr. Logemann was President of ASHA in 1994 and in 2000. Dr. Logemann was also the recipient of Honors of the Association from ASHA in 2003.
Speaker Disclosure:
Financial — Jeri A. Logemann is the author of educational resources and online CEU courses offered by Northern Speech Services; receives royalty payments.
Financial - Jeri A. Logemann is the author of educational resources published by Pro-Ed; receives royalty.
Financial - Jeri A. Logemann si an independent Conractor for Bracco Diagnostics, Inc.; receives grant funding.
Nonfinancial — Jeri A. Logemann has no relevant nonfinancial relationships to disclose.
Intended Audience
This program is offered for .1 CEUs (Intermediate level; Professional area).
Content Disclosure: The content of this online CE course does not focus exclusively on any specific proprietary product or service. Presenter financial and non-financial disclosures may be found by clicking on the Presenter & Disclosures tab.
NSS is approved as a provider of continuing education by the California Speech-Language Pathology Board. Provider #PDP4.
NSS is approved as a provider of continuing education by the Iowa Board of Speech Pathology and Audiology Examiners. Provider #169.
NSS is approved as a provider of continuing education by the Kansas Department of Health and Environment. Provider #LTS-S0005.
NSS is approved as a provider of continuing education by the New Jersey Department of Education. Provider #1654.
Peer Reviewed: This course was peer reviewed and registered with ASHA on 06/08/2013.

Course Completion Timeframe: You have unlimited time to complete this online course. You may log off and log on as you wish in order to complete all sections of this course.

Content Access: Access to course materials and content does not expire, even after completing the post test. You may continue to review course material by logging into your NSS account, clicking the E-Courses tab, and then viewing your desired course.

Certificate of Completion: On successful completion of the post test (80%), a certificate will be immediately available for download and/or printing. This certificate will include your name, date of completion, and number of contact hours (CEUs / CEEs).

ASHA CE Registry Submission: During the enrollment process, if you select to receive ASHA credit for this course and if you provide your ASHA number, NSS will automatically submit your CEU information to the ASHA CE Registry after successful course completion (80% on post test). This submission happens once per month, during the first week of the month. For example, if you complete your course on November 7th, NSS will submit all November online course CEUs to ASHA during the first week of December. When ASHA inputs the information into their database, they will mark the course as completed on the last day of the month in which it was completed, so November 30th using this example. The certificate of completion available for you to print immediately, however, will reflect the actual completion date, November 7th in this example. Due to ASHA processing procedures please allow 2-3 weeks, from the submission date, for the course to appear on your ASHA transcript.

Purchase Orders: Yes, purchase orders ARE accepted when registering for this course. However, they do not constitute as payment. Course access is activated only after payment is received in the form of a check or credit card payment.

More FAQ: Please click here.
More Offerings by: Jeri Logemann
Ecourses

e53
How Do We Treat This Patient With Dysphagia?
Jeri Logemann, Ph.D., CCC-SLP, BRS-S
.1
$24.00
e19
Dysphagia Practice: A Comprehensive Update and Review of the Assessment Process To Ensure Best Practice and Positive Patient Outcomes
Roxann Gross, PhD, CCC-SLP and Ikuo Hirano, M.D., Gastroenterologist and Susan Langmore, PhD, CCC-SLP, BRS-S and Jeri Logemann, Ph.D., CCC-SLP, BRS-S and Donna Lundy, PhD, CCC-SLP, BRS-S and James Naas, Ph.D., CCC-SLP and JoAnne Robbins, Ph.D, CCC-SLP, BRS-S
1.5
$149.00
e13
Use Of Postural Procedures To Improve Swallowing
Jeri Logemann, Ph.D., CCC-SLP, BRS-S
.1
$24.00
e09
Interpretation of Videofluoroscopic Swallow Studies of ADULTS
Jeri Logemann, Ph.D., CCC-SLP, BRS-S
.5
$89.00
"I really liked that there was very specific direction in how to address dysphagic individuals as "individuals" instead of "symptoms of some disorder or accident."
"Good review with some new info that is beneficial to deciding diets."
"Excellent, detailed review of swallowing disorders and surrounding issues."
"Very informative information about swallowing and recommendations and in format easy to understand."